Teaching about the 7 days of creation in your children's church or Sunday School classroom? Try one of these fun, hands-on days of creation activities for kids!
This post may contain affiliate links. If you purchase anything through one of these links, I may earn a commission for recommending you—at NO extra cost to you!! I only recommend products I would personally use from companies that I trust.
Read my full disclosure here.
Teaching the 7 days of creation?
Here's the absolute best way to help the Bible story of creation stick in your kids' minds:
Repetition, repetition, repetition.
Does that sound boring to you? It doesn't have to be! In fact, I've collected 3 really cool ideas for reviewing the days of creation.
Your kids won't be squirming or distracted if you use these fun activities to teach the days of creation!
Instead, they'll be totally engaged in hands-on learning:
Games
Puzzles
Activities
Crafts
And along the way, they'll review what happened on each day of creation.
The end result?
A fun, stress-free, and effective time together learning about the 7 days of creation!
3 fun, hands-on creation activities for kids
This is my top recommendation for younger kids (though older ones may enjoy it also).
The illustrations are fun and colorful. But this book also has a creative twist–kids have to find the numbers hidden within the pictures for each of the 7 days of creation!
That's what I love about this book. It will definitely catch your kids' interest and keep it straight through to the end, because they'll be intently staring at every page.
Grab this creation book for your kids!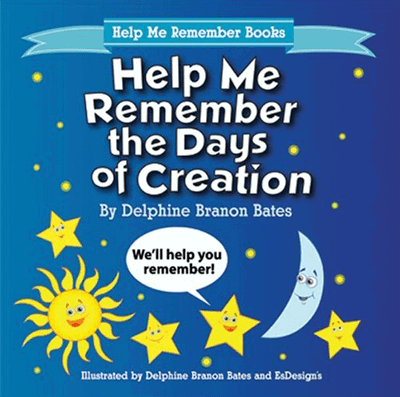 For your elementary-age kids, this is an excellent project for reviewing the 7 days of creation.
It's a super easy little craft with basically no prep on your part!
And even your younger ones will have no problem assembling this creation wheel craft.
What I love about this creation wheel craft, though, is that the fun continues even after the project is finished. (Crafts that can be used afterward are the best kind!)
The way it works: There's a pie slice cut out from the top of the creation wheel, so you can spin it to view one day of creation at a time. You could even play a game, after your kids have made their wheels, by giving a number and then racing to see who can spin his or her wheel to the corresponding day.
Because this creation wheel craft is so visual and tactile, I guarantee that it will help your kids remember the 7 days of creation much better!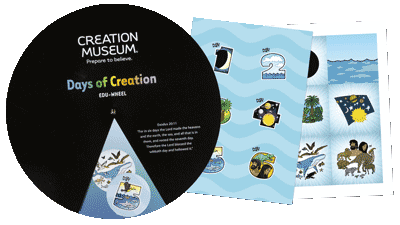 Your older kids will love this high-quality art book for the 7 days of creation. In fact, I think you could give several weeks of reviewing creation in your Sunday School or children's church with this fantastic resource!
This art book is not at all "fluffy." It includes applicable Scriptures and interesting commentary, plus detailed instructions for how to paint each creation scene.
Again, this is the type of activity that will really help your kids remember the days of creation, simply because it engages the brain in so many different ways.
If you have a particularly "hands-on" or "artsy" kid, this art book will be fantastic.
Get your own copy of the "Days of Creation" art book.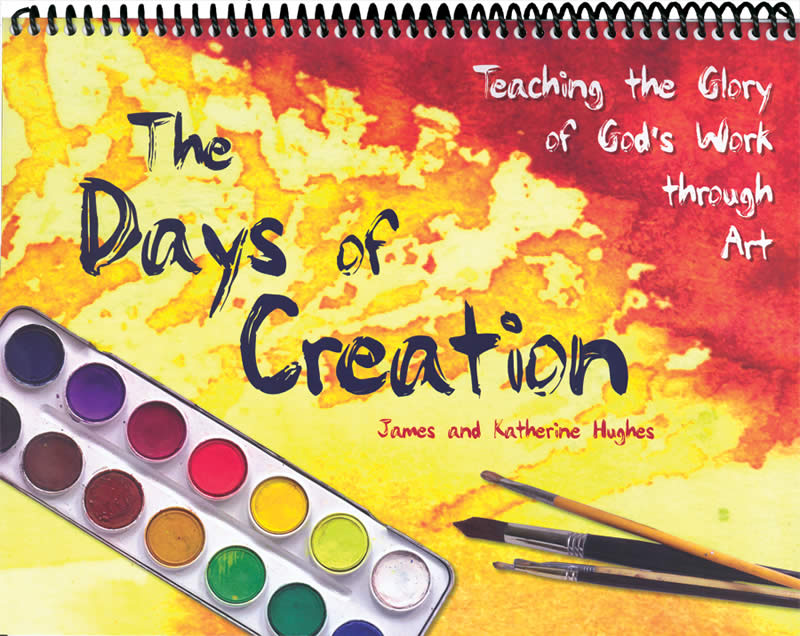 Have fun with these 7 days of creation activities for kids!
And enjoy "passing the faith along" to your kiddoes. ❤️
TEACH THE BIBLE SUCCESSFULLY!
Join more than 15,000 other Bible teachers and get free printable teaching materials conveniently in your inbox!